Vicki Rickabaugh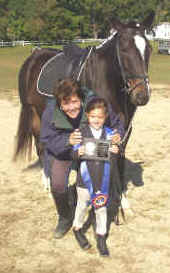 Vicki and granddaughter Nicole
Vicki has been a respected teacher and trainer for over 40 years. Her personalized, understanding approach to training, unites horse and rider as one, producing confident riders and trusting companions.
"Blue Spruce Farm is a special place. I want everyone to gain a sense of peace and relaxation, along with knowledge of riding."
Vicki trained with several of the masters who themselves have been on Olympic teams and brought dressage to the United States. Her expertise in dressage allowed her to have competed at the FEI levels. She currently has students at all levels from beginner to FEI.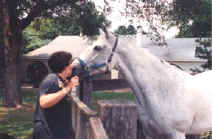 At Blue Spruce Farm Dressage Center, Vicki offers individual instruction to junior and adult riders from beginner to FEI levels. Lessons and clinics are also available off the farm by special arrangements.
In addition to training, Vicki is a frequent community lecturer and a contributor to local equine publications. She is the author of Horse Riding for Beginners, which has been published internationally. Vicki is the developer of the Equine Circle of Needs and TRACE.
Vicki received her "L" certification from the United States Dressage Federation. She is available for judging throughout the tri-state region.