Dressage Instruction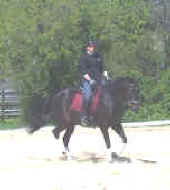 "If you can think it, you can create it. If you can create it, you can achieve it.

The only limit in life is the one you place
on yourself."

- Vicki Rickabaugh
Sharon working out with In Unison.
Dressage is an art form created by horse and rider. Whether you are a beginner learning to walk and trot or an advanced rider learning more intricate movements, our goal is to help you ride beautifully, with relaxation and enjoyment.
Our instructors cater to individual training needs and goals, and we recognize that everyone's needs are different. At Blue Spruce, riders find a serene, friendly environment where they can bond with their horses and improve their riding at their own pace.
We train year-round, with appointments available days, evenings, and weekends. Our instructors also travel to off-site locations by special arrangements for clinics and instruction.
Many, but not all, of our riders compete in dressage schooling shows. Some also compete at USDF/USEF recognized shows.
Contact us for more information and rates.